Designed for organisations that manage their outbound communications across multiple centres whether onshore, offshore, in-house or with outsource partners.
C-CAM is a cloud based solution, accessible via a web portal. It requires no changes or integration to your source partners telephony platforms. This means it can be implemented in weeks.
Compliance Module
The May 2017 OFCOM dialler regulations combined with ongoing regulatory scrutiny on mis-selling dictates that companies pay closer attention to the operations of outsource partners working on their behalf and to their own outbound call centres.
> The C-CAM analytics engine monitors outsourcers activity for regulatory compliance & internal company SLA adherence.
> OFCOM: Generates alerts for potential breach of OFCOM dialling activity.
> OFCOM/OFGEM/FCA (depending on sector): Identifies potential agent mis-selling activity.
> ICO: Provides safety net checks for PECR, DPA & in 2018 GDPR compliance.
Performance Management Module
The solutions provides a single central data view across agencies & centres.
> Provides at a glance benchmarking of agency performance on the same data sources (SPH/ Conversion/Contact penetration) with drill down to low level detail.
> Daily status on the true penetration of supplied data sets.
> Analysis of where outsource partner's dialling can be changed to increase contact penetration.
> Analysis of data files performance by centre/period & offer.
> 360 degree view of agent level performance: SPH/Conversion/data utilisation/complaints/attrition.
The C-CAM data analytics engines scans raw daily dialler data dumps from your contact centres. The engine has been trained to identify call centre specific patterns and to generate alerts, analysis & reports. Without C-CAM contact centre problems need to emerge before they are investigated.
There is little time for managers to deep dive activity even where they have partner system access. Through big data analytics C-CAM brings transparency to call centre activity and allows you to identify and address issues before they become a crisis.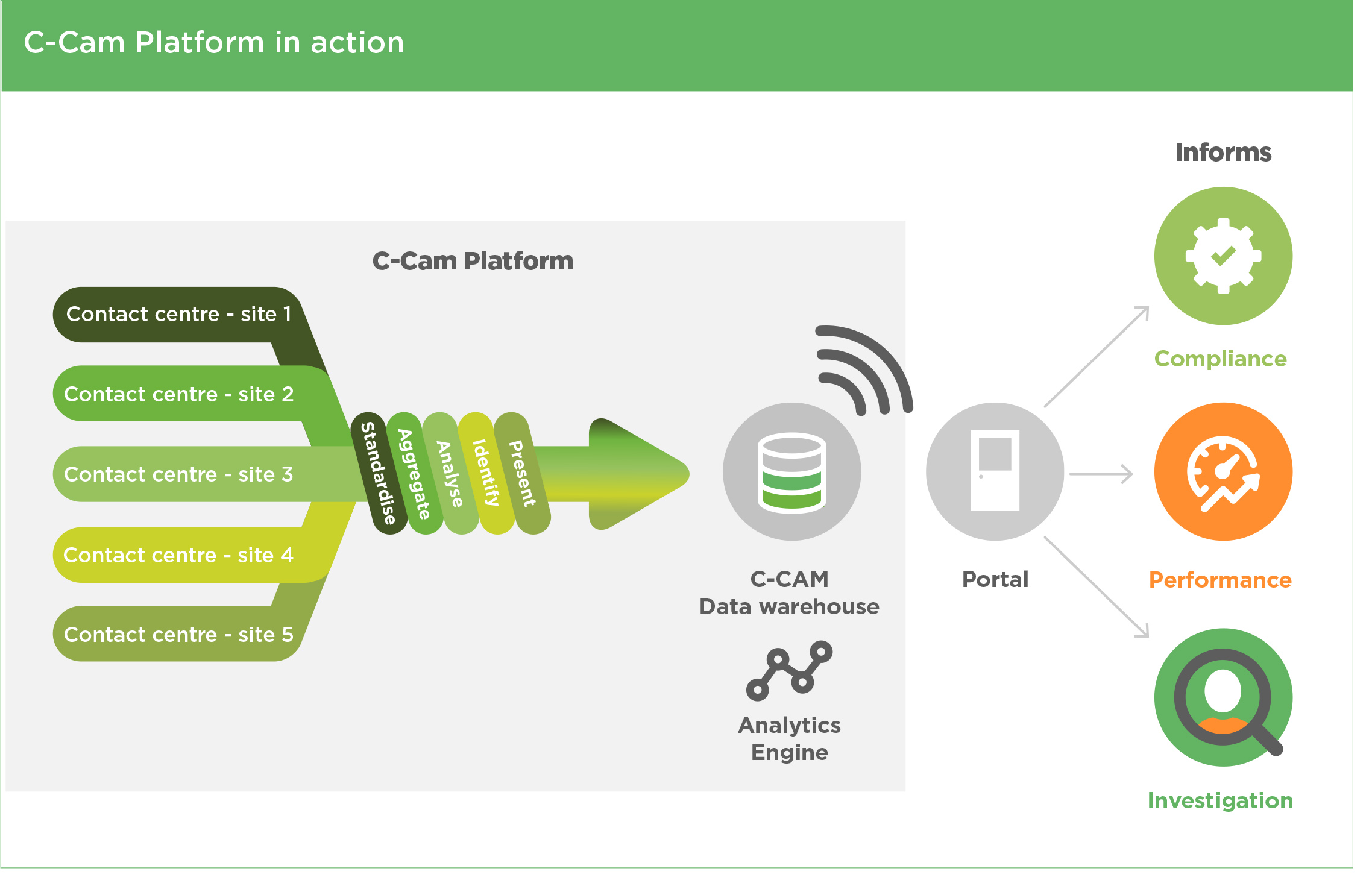 Benefits
Solutions
> Early warning system: proactively generates alerts before issue gets out of hand & minimises negative impact.
> Acts as a alert system for Compliance & QA team: allows them to focus time on issue investigation instead of random testing. Reduces head count required.
> Provides strong evidence to regulator of due diligence as mitigation in the event of an investigation.
> Looks for patterns that would never come to light through operations reporting & MI.
> The alerts generate a list of specific calls which should be investigated & call recordings retrieved.
> True cross agency/partner analysis in one report. At a glance benchmarking.
> C-CAM removes the need for manual report collation. The burden of collecting data from multiple sources and formatted into consistent structures is managed for you leaving you with the tools needed to facilitate positive change – this information could also be accessed via the desktop tool, or via daily reports into your inbox.
> No development required: just configuration of modules to customise any specific requirements.
> Saves management time in both data collection, report generation and outsourcer discussion. Increased control with reduced effort.
> Experienced consulting team available to support and assist in transformation and change.
Implementation
> Cloud based – no CapEx required.
> Rapid deployment – within weeks..
> GDPR compliant.
> Ongoing specialist support.
> Option to engage C-Centric team in on site partner dialler audits.
Commercial
> Designed by contact centre specialists who have worked both client side and partner side.
> Endorsed and in use by some of the UK largest users of call centres.
> Flexible contract terms after initial 3-month evaluation period.
> Optional value-add modules to extend functionality: consultancy, on site audits, real time lead management, dialling optimisation, time of day enrichment & suppression processing