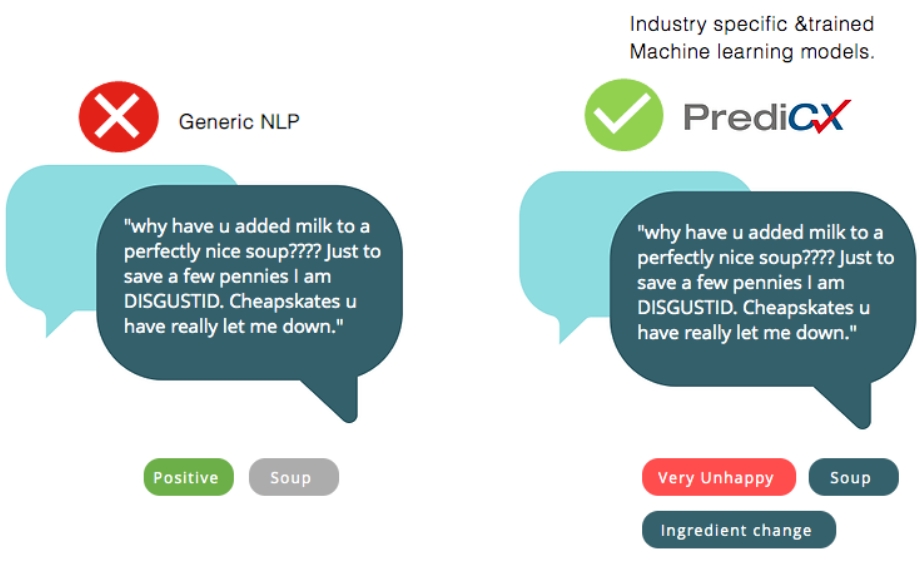 1. Bring more insight to your Zendesk Views
Views organise your tickets by grouping them into lists based on certain criteria. Use PrediCX tags – such as topic, product sentiment, & urgency to help build custom views that better support your workflow.
2. Keep your customers satisfied
Advanced AI technology minimises human effort and maximises accuracy and scope. Tags can be automatically applied to tickets created or updated on Zendesk. PrediCX tags can be used to build Triggers. These triggers can help with self serve and drive automated email response relevant to the customer query.
3. Optimise AnswerBot accuracy and deflect the most queries
AnswerBot automatically answers customer queries, offering help faster than humanly possible and enabling your team to focus on more complex issues. It increases self-service efficiency by responding with relevant knowledge base articles from Zendesk Guide.
PrediCX can improve the accuracy of Answerbot with the articles it recommends. PrediCX labels enable you to specify a limited subset of articles and content for Answerbot to search. This will deliver increased levels of self serve.
Labels enable you to specify a limited subset of articles and content to search within, delivering better results and an enhanced customer experience.
4. Improve and maintain your agents' performance
Another use for tags is to employ them to build Triggers that will suggest pre-set Macros for agent responses to certain types of common queries and complaints.
As a result, agents become more efficient and AHT reduces significantly.
5. Route and prioritise tickets automatically
Automatic labelling enables customer service agents to:
· Get early warnings of issues
· Automatically route tickets based on topic, intent or sentiment
· Fast track complaints or urgent enquiries
· Allocate each ticket to the optimal team for resolution.
A Trigger can escalate the ticket to a manager when it meets the conditions of problematic labels such as "Churn" or "Several interactions needed" and "Problem not solved". The result is swift prioritisation for outbound calling and customer retention. An instant message alerts the customer and the same trigger routes this ticket to the urgent complaints handling team.
Triggers can also work internally, maybe to notify the dev team about app or web glitches, or for new software updates expressed by users.
PrediCX is an AI classifying machine that allows you to automatically tag data with meaningful labels. It's based on a combination of Machine Learning and a 'human-in-the-loop' labelling incoming data, minimising the human effort and maximising the accuracy and scope of the process.
There are multiple scenarios where PrediCX would help you streamline your workflows, prioritise and arrange your tickets and overall enhance your customer service centre performance.
Request your free PrediCX 30-day trial and £1,500 credit balance.