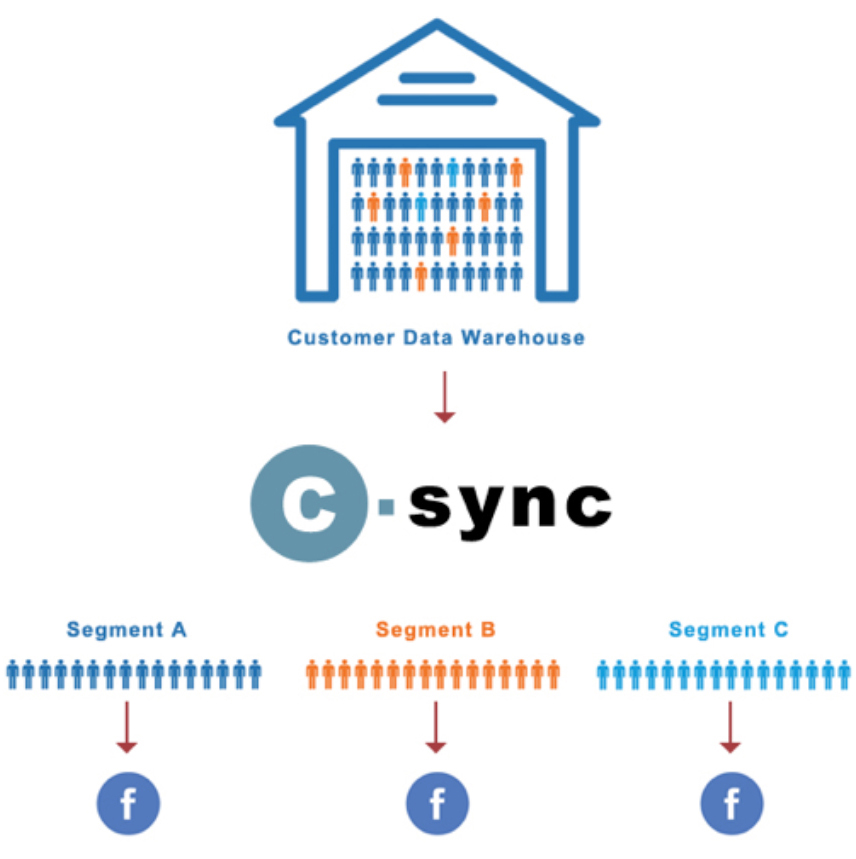 Automate and sync your customer records with audiences on Facebook, Google & Twitter.
You know that using your customer data in your digital advertising presents a massive opportunity but what happens if your millions of customers records and locked away in a data warehouse which you have to manually query to import into Facebook, Google & Twitter? This is the problem facing many organisations with large customer datasets but antiquated IT systems which don't give them immediate access to that data.
c-Sync has been developed to help these organisations to keep their customer data synced with their audiences on Facebook, Google and Twitter without the need for constant daily CSV dumps and manual uploads. Saving you time and improving the accuracy of the audience data you rely on for your digital advertising.
Problem
For clients with large, proprietary databases extracting customer data and keeping it in sync with your audiences on Facebook or Google is a time consuming manual task, prone to inaccuracy. Lack of synch agility means many advertisers waste spend on PPC spend as their customers respond to DTC campaigns.
Solution
Our team have years of experience in integrating in-house databases with web api's. Whatever technology your customer databases or marketing lists live in we can segment and sync that data with your custom audiences and keep it up to date with daily sync'
How?
Through our experience working with some of the UK's largest proprietary customer databases and our extensive knowledge of ad network API's.
Why?
Reduce manual uploads and ensure records are always in sync, saving you wasted ad spend and ensuring the right messages are shown to the right prospects every time.
Our difference
While other solutions such as Zapier can easily sync customer data from off-the-shelf CRM platforms like Salesforce with Facebook custom audiences through an API, c-Sync can sync huge customer data sets which exist in proprietary customer data warehouses without a developer API.
Case Study
A UK supermarket chain have millions of customer records in their data warehouse. They want to use this data to target Facebook Ads for in-store offers at segments of customers, based on their past purchasing behaviour. However, this will mean hundreds of different Facebook custom audience lists managed with CSV dumps. With customer records which change constantly and in real-time keeping these audiences in sync manually is a daunting task.
With c-Sync the client is able to programmatically sync customer data in the data warehouse with the custom audience lists stored inside Facebook Ads and run daily updates so new and removed customer records are always reflected in the custom audience.
This gives the clients ad agency virtually unlimited flexibility to run targeted ad campaigns at specific segments of shoppers.