5 new techniques to drive both outbound and inbound performance and compliance
If you're running outbound or inbound campaigns then you know just how tough it can be to make them hit target. Data performance and data compliance can stop you sleeping at night.
We teamed up with Humphrey Davis, a leading call centre consultant and owner of CallCentreSearch.com. Humphrey has over 20 years experience of delivering call centre improvement programs across most of the leading telcos such as Virgin, EE & TalkTalk.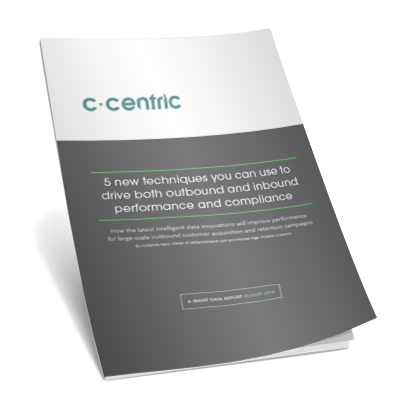 The report details his top 5 key ideas. Fill in the form to download the report and find out how to make them work for your operation:
Includes:
How to take more control of your outsourcing partners even with a lean vendor management team
Apply Big Data techniques to your campaigns to drive proactive compliance and sales improvement
How to ensure Ofcom and ICO compliance instead of hoping
Replacing old fashioned call list selections with new high SPH trigger data
Bring CPA under control without compromising sales volume or compliance.
Fill in the form to download the Free Report: